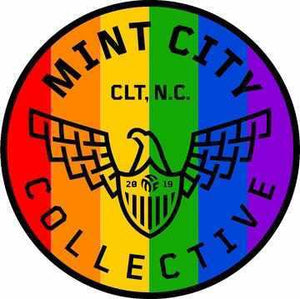 On June 28, 1969, the police raided Stonewall Inn in New York City, a tragic moment in history remembered as the Stonewall Riots.

June, in turn has become a time to bring together communities across the country to remember those who paved the way for the LGBTQA community and who continue to do so. It's a time for education and breaking down barriers, too.

The grand symbol of the rainbow flag stands as the symbol for those within the LGBTQA community, and the allies that live outside. Mint City Collective exists as an ally within and out, as well as bringing positive awareness and influence within our communities and beyond.

With their vision, Time Out Youth states they intend to inspire inclusive communities where all youth are equally empowered to reach their true potential, along side their mission to support lesbian, gay, bisexual, transgender, queer and questioning youth by offering vital programs, fostering unconditional acceptance, and creating safe spaces for self-expression through leadership, community support and advocacy.

Their activism, inclusiveness and community support align with the standard Mint City Collective has set forth in our mission to better influence our communities in every way we can.

With the purchase of this sticker, ALL of the proceeds will go to Time Out Youth.

For every sticker sold, Mint City Collective will match those donations.